I was not sure what to call this, so added up the names of the ingredient groups. If you love sourdough, you will love this recipe. If you love omelettes, you will also love this recipe–that's the beauty of it! This recipe is made with sourdough discards. I am not a huge fan of pancakes as I am not crazy about sweets, but I love sourdough and omelettes. So, while waiting for my sourdough starter to mature, I was looking for a recipe to use the sourdough discards (to make sourdough starter, you must discard some and replenish to 'feed' the starter). Voila! This recipe was born, and has quickly become one of my favorites.
With the current state of global affairs, the popularity of sourdough has risen. I am always late to trends, but I have always loved sourdough and sour things, in general, so I have been experimenting with lots of sourdough recipes. I could not bear to just simply toss out the dough, so I tried to think of recipes with discards. This recipe is easy and cooks quickly. I usually make the pancake and the omelette at the same time. I would simply recommend scrambling the egg and dicing the ham before you begin–then you will be ready to rock. Note that there is no sugar in this recipe.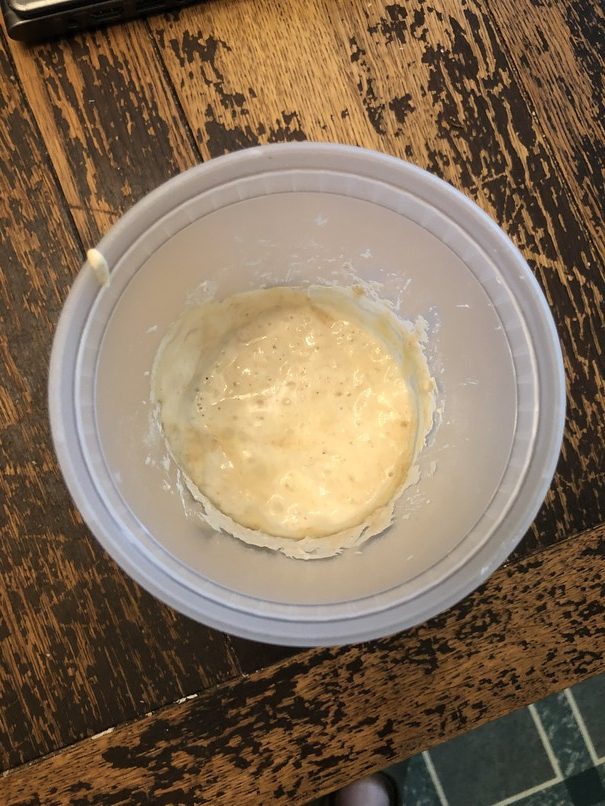 I am still perfecting my sourdough recipe, and will post as soon as I am happy with it, so in the meantime, I highly encourage you to search the web as there are many recipes out there. Or, if you are the experimental type, take 100g of flour (using a kitchen scale) and 100g of bottled or spring water, stir, and let sit over night. Remove 100g of the mixure the next day and keep repeating. You will soon have bubbly, fermenting sourdough starter. I take the discards and place in a separate container, and that is what I use for my unsweetened pancakes (I think of them as focaccia). You want to wait for a few days until the starter is actually fermenting and 'sour.'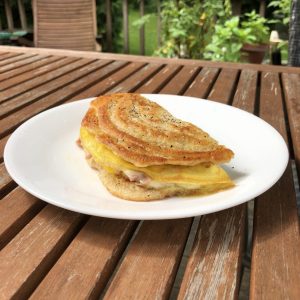 Sourdough Starter Ham and Cheese Omelette Breakfast Sandwich
An unsweetened pancake made with sourdough discards serves as the bread for a unique breakfast sandwich flavor profile.
Print
Pin
Rate
Equipment
2 small to medium-sized frying pans
Ingredients
1

egg

4

tbsp

Sourdough Discard

You can use unsweetened pancake batter, as well.

1

tsp

Montreal Steak Seasoning

4

tbsp

Chopped / Diced Ham

1

slice

American Cheese

You can use any kind of cheese you prefer

Coursely ground black pepper

To taste

2

tsp

Butter

Or non-stick cooking spray

3

tsp

Extra Virgin Olive Oil
Instructions
Make the Omelette
Heat a non-stick frying pan to low heat. Add the butter to pan and melt.

Scramble the egg in a small bowl and add to pan. Gently spread so the bottom of the pan is covered with the egg. If the pan is larger, nudge the eggs into a circle shape about 5 inches in diameter. You can also tilt the pan to allow the egg to spread.

Allow the eggs to stiffen and cook a bit so there are no runny parts. Add the slice of American cheese to one side of the circle, tearing the cheese in several sections by hand.
Make the Pancake / Crepe
Using an aluminum or non-stick skillet, place on low heat and drizzle some Extra Virgin Olive Oil in the pan.

After about a minute, drop the sourdough batter into the center of the pan and spread gently with a spoon. You want to match the size of your omelette.

Let the pancake cook for about a minute and sprinkle Montreal steak seasoning to your liking. Go easy–it is salty.

Once the batter looks firm on top and you see lots of holes from the bubbled batter, flip it over with a spatula. Sprinkle a tiny bit more seasoning. You are looking for a nice golden color. If not, just wait and finish it off after the current side is done. The side with the seasoning will look different due to the seasoning and have a different color. The golden side is the outside of the sandwich.