My son LOVES sausage, egg, and cheese breakfast sandwiches (especially from McDonald's, but we try to only eat there once in a great while.) The problem, of course, is finding time in the morning. I therefore try to make a lot of food on the weekends for the week ahead. Here is one ingredient that is super handy to have at the ready–sausage.
I can't speak for the health benefits of sausage, and I'm sure there are dietary reasons to avoid it, but if you complement hearty meals with healthy diet choices and regular exercise, then I see the latter as part of the joy of living.
I make up a batch of sausage from the rolls available in the freezer or refrigerated section. I look for the sausage that contains no preservatives or MSG-just pork, salt, and natural flavorings. Be choosy about the kind of sausage you buy–read the label and avoid those kinds containing BHT and other preservatives. There is no need for it. This sausage goes great in breakfast burritos, breakfast sandwiches, and other recipes calling for sausage.
You won't have the same nice rough, browned edges you would get from a skillet, but this is a foolproof method. The pan is also easy to clean and you avoid the mess and grease of the latter. My guilty secret is that I love making these in my vintage Revere ware pans with the copper bottoms. I have a few that we have accumulated from tag sales over the years, and you can easily find them used on Ebay. I love them as they heat up instantly, and they are the perfect thickness for heat retention and transfer. Plus, they look cool and carry a strong retro vibe. Don't let the pictures fool you; the brown marks from the sausage and heat wipe off easily with a rough sponge and warm soapy water.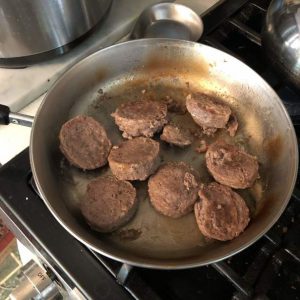 Equipment
Stainless Steel Frying Pan
Ingredients
1

roll

Natural Sausage, slightly thawed

make sure to freeze first, and then thaw slightly so still slightly stiff
Instructions
Place slightly thawed roll of sausage on cutting board, and slice into 1/4 inch thick slices. There are usually marks on the package for this

Arrange the circles o' sausage in the pan and fill pan with water until about 1/8" puddle of water on the bottom. Place on burner and set on medium heat. Cover and set a timer for 10 minutes.

Keep a careful eye and ear out. When you start to hear a full-bodied sizzling sound, turn down the heat and check to ensure there is still some liquid in the pan to prevent burning. Give them a flip if you like both sides browned and let cook for another minute.

Transfer to a plate with a paper towel to absorb excess grease and let cool, or you can add directly to your recipes, like breakfast! If storing for later use, let cool completely and store in the refrigerator in an air tight container for up to one week, though I recommend using within 5 days.