This is the one. After years and many experiments with spaghetti and sauces, this is the foundation I keep returning to. I have tried a TON of various marinaras, both homemade, jarred, restaurants, etc., and this is by far my favorite. Nothing beats your own homemade sauce, and I do mean nothing, except for, of course, those made by your relatives that can cook. I simply will not ever eat store-bought spaghetti sauce from a jar again. I am getting hungry just writing about this, especially after having just created this batch last night.
Ridiculously Simple.
This is probably one of the simplest recipes you will ever make–the only way one can screw this recipe up is by setting your Crock-Pot knob to 'warm' instead of 'low' or 'high' (and yes…I have done exactly that).
I use the words Crock-Pot and slow cooker interchangeably (yep, like Band-Aids and Kleenex. The best part about the slow cooker is that it frees up so much of your time. You can literally prepare this before you head off to work and come home to the sweet, savory smell of a sauce thats been simmering all day. Due to the airflow in our open air kitchen, the smell floats right down to my computer area, so I will admit it is tough to resist the temptation of slurping wooden spoonfuls of the sauce throughout the day.
It's all in the ingredients…
I'd like to point out a few ingredients and points here that really kick this recipe into overdrive. The first is the sausage. Being a foodie, I have tried various national brands and styles, and I have found the best sausage can be had from your local butcher or in-house from your local grocer.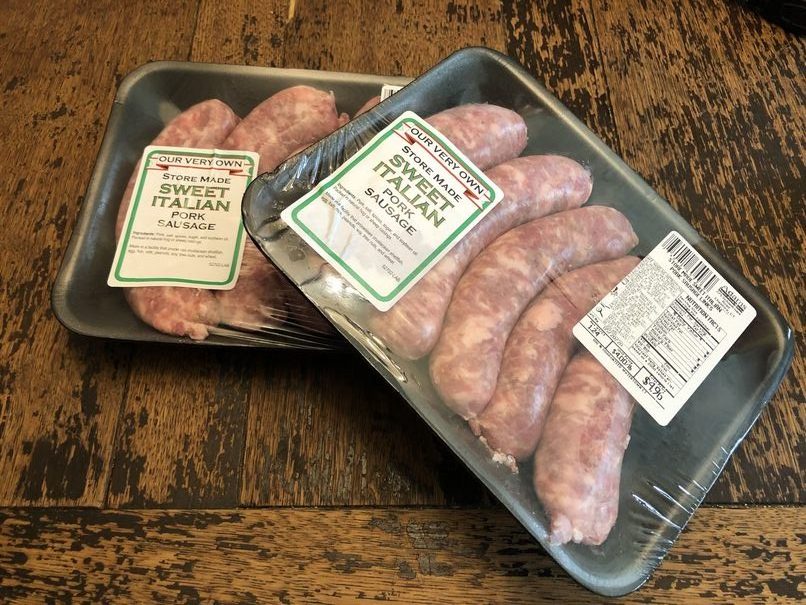 It imparts the right amount of fat and flavor to the sauce, alleviating the need to add much else. Shout out to my two favorite shops, Adams and Watertown Meat Center. Feel free to vary the ingredients to this recipe, but don't forget the sausage.
The second key, but subtle, ingredient is the crushed red pepper–that stuff you always see on the table at pizza joints everywhere.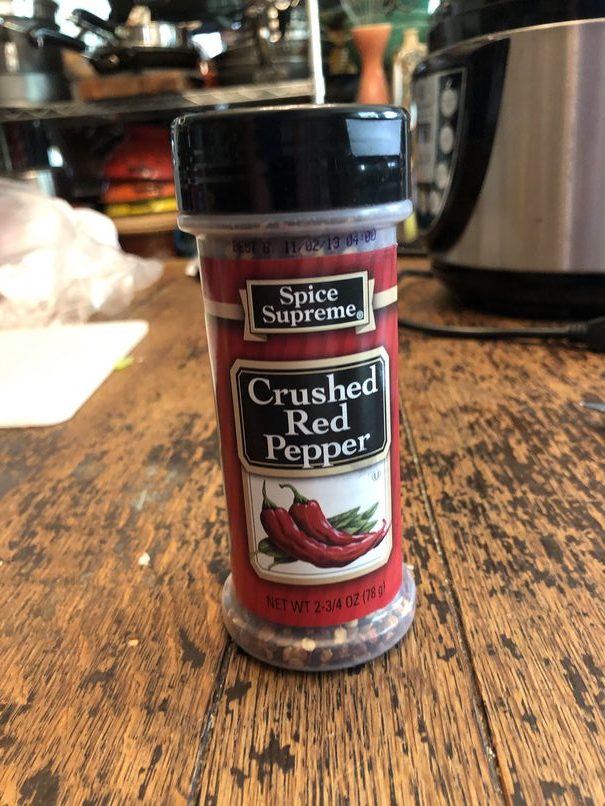 Before we had kids, many a weekend was spent lazily watching cooking shows on PBS, and I came to adore Lydia Bastianich. I noticed she would often add crushed red pepper to the olive oil, even on dishes that were not known for being spicy. Just a few shakes in some hot extra virgin olive oil, and you have the foundation for an amazing meal. You would be surprised at how many dishes you can sneak this surprising ingredient into as a nice hint of heat. As we are fans of spicy food in this house, all of my dishes border on 'diavolo', but don't be afraid to use in your cooking.
Lastly in the ingredient attributes worth mentioning is the use of fresh herbs. I can not recommend this enoigh. After discovering a rosemary plant at an airbnb we stayed at a few years ago, we started an indoor herb garden; nothing fancy–just a few pots filled with oregano and rosemary. Whenever I need a little extra boost in a dish, I simply snip off a sprig.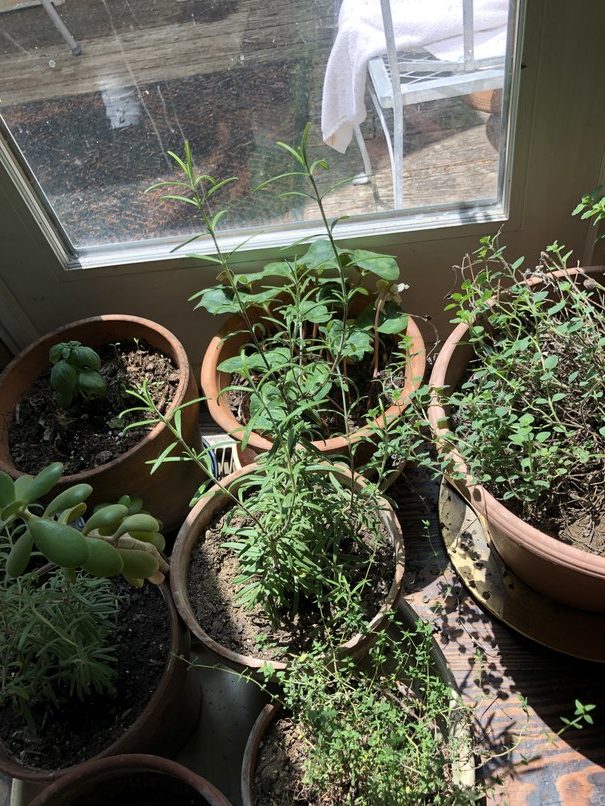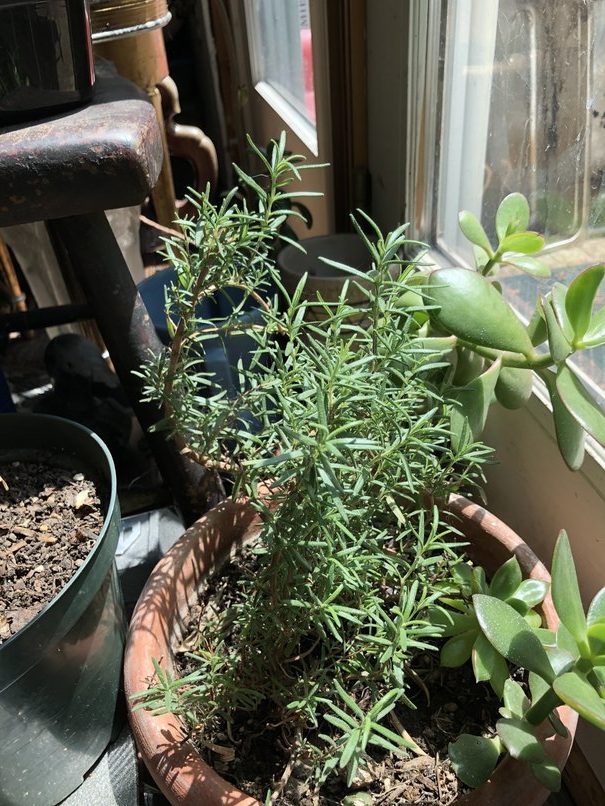 I will usually augment with store-bought dried herbs to conserve our stash.
Cooking time is up to you…
The other factor to consider with the slow cooker is cooking on low versus high. Cooking on low takes longer to cook as one might expect, and is ideal for starting a recipe in the morning and walking away. Cooking the same recipe on high in a crockpot will usually cut the cooking time in almost half, although I have not timed it exactly. To be honest, I have not noticed much difference between the two in terms of taste. My wife contends that cooking for longer on low gives the sauce better flavor, while I have not noticed much difference.
Cooking time for this recipe is about 7-8 hours on low heat and 4-5 on high. Time will vary based upon your model of slow cooker. The easiest way to tell when it is done is by taste and texture of the sausage. You should be able to easily slide a fork into the sausage when it is done. Some might prefer a firmer sausage, so you can also brown the sausage in a separate pan first and cook for less time in the slow cooker.
I have also attempted this recipe in a pressure cooker, but have found the pressure cooker burns on the bottom too easily due to the thickness of the sauce. Many people suggest keep ingredients layered with thinner juices on the bottom, but I found it just does not taste as good when simmered for hours in the slow cooker.
Please send in your comments and suggestions. I would love to hear about your experiments with this recipe.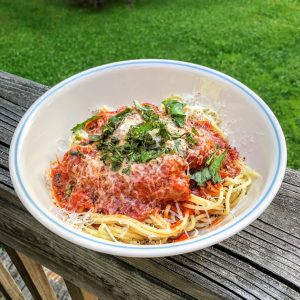 Ultimate Crockpot Sausages and Marinara
This is about as simple and savory as it gets. Make extra so you can enjoy throughout the week!
Print
Pin
Rate
Servings:
6
people, plus leftovers
Equipment
Pressure Cooker

Wooden Spoon (for stirring)
Ingredients
2

medium sized onions

3-4

cloves

garlic

(you can lessen if you are not a huge garlic fan)

1

Italian frying pepper

1

can

plain tomato sauce

(28 oz)

1

can

crushed tomatoes

(28 oz)

4

tbsp

tomato paste

(store any unused in the fridge for other recipes)

3-4

lbs

Sweet Italian Sausage

(can use hot sausage, if you dare)

1

sprig

fresh rosemary

(can substitute with dried herbs)

1

sprig

fresh oregano

(can substitute with dried herbs)

1

tsp

black pepper

1

tsp

crushed red pepper

(a sublime but key ingredient for adding zing)
Instructions
Turn your slow cooker to LOW if you plan on cooking all day or HIGH to speed it up. I like starting this recipe around 9 am if I am doing low and around noon if I am doing high. I cannot overstate this enough. If you have the simple rotary knob on your cooker, CHECK THE SETTING TWICE, especially if you are a daydreamer like me 🙂

Slice in thirds along the center axis of the onion slices. You can dice smaller, I feel that thicker onions make this sauce a little heartier. Transfer to slow cooker.

Press down on them firmly to crush with the palm of your hand using the flat side of a large knife. This will make it easier to remove the skins.

Remove skins from garlic and crush some more with the flat of the knife. Carefully dice with your knuckles curved inward to avoid cutting your fingers. Dump the diced garlic in the slow cooker on top of the onions–easy so far, right?

Rinse off the Italian frying pepper and place on cutting board. Slice around the edge closest to the stem and pull off the top.

Slice the pepper in half lengthwise, and start slicing either side of the whitish ribs. You can then just take this slices with the ribs on them, flip on their sides and slice out the whiter rib part. Rub all the seeds off. Now just slice crosswise–it does not need to be perfect. Slightly larger chunks make for a heartier sauce, IMHO. Transfer to the slow cooker.

Now remove the sausage from package. If you got invidual links, I recommend slicing in half, crosswise. This release some nice meaty bits into the sauce and allows for smaller bite-sized pieces. If you got a larger rope of sausage, slice off pieces roughly 3-4 inches in length. Transfer to slow cooker.

Open the 2 cans of tomato sauce and crushed tomatoes and pour into slow cooker.

Add 3-4 tbsp of tomato paste to help thicken the sauce as it cooks.

If you have the fresh rosemary and oregano, pinch your index finger and thumb and run along the stem to remove the leaves, then dice on your cutting board. If no fresh herbs on hand, no worries. Season to your liking–you can probably add about 2-3 teaspoons of both rosemary and oregano. Many people have their preferred combo of herbs for Italian sauces, so use your own ratio, if preferred.

NOW…DONT FORGET THE CRUSHED RED PEPPER! I learned this trick from Lydia Bastianich, one of my favorite chefs in the world. Even if you dont like spicy foods, add a little bit. It will improve your love life. Trust me on this one. It adds just the slightest amount of zing to any food. If you like more of a diavolo sauce, add more! This is probably the most important, if not most sublime, ingredient in this recipe, and is nicely amplified by the longer simmering time of a slow cooker.

FInish off with a decent amount of ground black pepper. You are off the hook for the next 4-7 hours. I like to ensure that the onions stay on the bottom for a good amount of time and I do not stir much. I actually like to leave all the spices on top and give a stir in a few hours if I am home. If you will be out for the duration of the cooking time, you can gently stir the spices and herbs in. Remember that the slow cooker will multiply the flavors of the spices you add, so you can experiment over time.

You now have meals for days. You can add more sausage and sauce to your liking. The sauce will inherit the flavor and you can serve without the sausage over pasta as leftovers once you have eaten all the sausage.