The beauty of this recipe is that it is high reward, low cook time, and you can sneak in many ingredients under the hood to create a culinary masterpiece. Some recipes call for breading and frying, but in this recipe simply bake for about 20 minutes, letting the unique taste of the cauliflower shine through. I am not a vegetarian, but definitely like to go through streaks where I take a break from meat. This is the perfect recipe for vegetarians, or for those abstaining from meat.
I like to pimp things out a bit, and add some turmeric for taste and color. I also overdo it on the Montreal Steak Seasoning and the hot sauce, but I like using big bold flavors when cooking. I have found a fantastic alternative to Frank's Red Hot that I find I like even better. This is no affiliate plug–I am just a fan. Aldi's has a great version of the latter called Burman's Hot Sauce. It has more of a vinegar twang with a hint of garlic, which I used in this recipe. The turmeric also lends a subtle middle eastern flare. The end result is savory like a steak, and you will find that your eaters eat it all.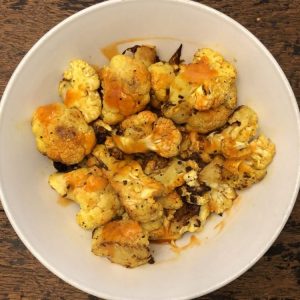 Sizzling, Baked Buffalo Cauliflower Recipe
Red Hot Sauce, Montreal Steak Seasoning, and turmeric add amazing color and flavor to this popular dish.
Print
Pin
Rate
Ingredients
1

head

cauliflower

4

tbsp

olive oil

Extra Virgin, of course!

2

tsp

Adobo Seasoning

1

tbsp

Montreal Steak Seasoning

2

tbsp

Frank's Red Hot Sauce

Or use your favorite

2

tsp

turmeric

for color and flavor
Instructions
Heat oven to 400 degrees. Rinse cauliflower well, pulling off any thick leaves. Slice the head in half from the top (with stem on bottom)

Notch out the tougher stalk at the bottom of each half with a chef's knife and start pulling apart the florets and slicing them off their mini stems. Slice the florets into bite-sized pieces.

Add the florets into a bowl and pour the olive oil on top. Shake the bowl in a large rocking motion to mix the olive oil into the cauliflower. Add all dry seasonings. Continue to shake and 'roll the bowl' until well-blended.

Dump the cauliflower out onto a baking sheet and distribute evenly. Set timer for 20 minutes and place in oven. You will want to check these in about 10 minutes and flip the florets over with a spatula to avoid browning them too much.