You know you love 'em. I know I do.
This is a classic. Many a lengthy morning commute has seen a pit stop to Taco Bell to grab a breakfast burrito, but I now just make my own. Use your judgement and cooking style to determine how much you want to prep beforehand. I like having a few burners going at once, so I usually overlap prep time with actual cooking.
The secret here is using a cast-iron skillet to get the right amount of browning and toasty taste. I like to assemble these right on a low-profile skillet / griddle that my wife picked up second-hand. I made this recipe while locked in during the Covid-19 pandemic, so I stripped the ingredients back to the basics of just egg, cheese, and bacon. You can certainly add anything you like, such as sauteed onions, chiles, cilantro, and the like. Whatever you do, you will probably to garnish with some hot sauce. The possibilities are endless.
Regardless, browning these burritos on a skillet adds a whole new flavor dimension that obviates the need for lots of toppings or spices.
If you don't have a cast-iron skillet, then go get one 🙂 In the meantime, you can still get decent results on a non-stick skillet or frying pan.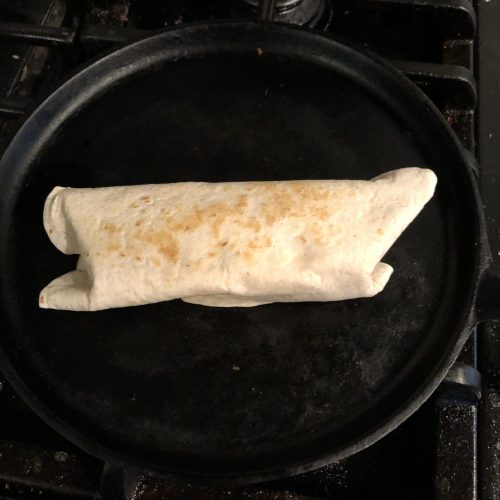 Hearty Grilled Breakfast Bacon Burritos
A simple but scrumptious meld of bacon, egg. and cheese rolled into a grilled flour tortilla
Print
Pin
Rate
Equipment
non-stick pan

cast-iron skillet
Ingredients
2

eggs

1/2

cup

coarsely grated cheddar jack cheese

grate before startng

3

strips bacon, cooked

Make right before you start or reheat

2

flour tortillas

1

tbsp

butter

for the eggs
Instructions
Whisk eggs in a bowl and prep for scrambling. Set aside. Start by prepping the bacon. Cook the bacon to desired doneness and set aside on a paper towel. You are now ready to build your masterpiece.

Heat small saucepan over low heat and add the butter, heating until melted. Heat your cast-iron skillet /griddle on another burner with low heat to prep it for browning the burritos.

Add the whisked eggs to the pan and let simmer. Once they start to firm, keep pushing to center of the pan to cook rest of egg mixture evenly. Cook the eggs until firm. Leave them slightly soft with a hint of runniness. Remove from heat and cover while you continue with next steps. They will continue to firm up without getting dried out and stay warm under the cover.

You can either assemble your burrito in a different area and then transfer to your skillet, or just assemble directly on the skillet, being careful not to burn your fingers. I like living dangerously and assemble right on the skillet as it forces me to move quickly!

Add your ingredients in the center of the tortilla, forming a line down the center, but leave room at the edges for folding.

Now the tricky part. Start folding the tortilla toward you, lifting the rear edge with one hand. After you have curled it toward you, start folding a right edge toward the center and fold a little more toward you. The right crease should stay slightly folded, allowing you to do the same thing on the left side. You might need to practice a few times, and I still am not great at it (a fun challenge every time!).

Continue to roll back toward you. By now, both left and right and should stay folded toward the center, 'sealing' the sides. Once you have the lip of the tortilla over the filling, start rolling and pinching it toward the center, tightening and wrapping the filling. You can now finish the roll and you should have a somewhat tube-looking concoction. It does not need to be perfect, but you probably want to make sure the sides are folded in to make them easier to eat without the filling falling out.

If you assembled the burrito on a plate, you can skip the browning and just start serving. BUT, if you want the nose-tickling taste and aroma of a grilled burrito, put that bad boy onto your heated griddle and bask in that lovely searing sound of the burrito being kissed by the heat of that gorgeous cast iron.

I like to place a pan cover over the burrito to give some weight and sear the burrito (and it mimics that burrito-press at Taco Bell!) Let it heat for 1-2 minutes and flip. Cover and brown the other side for 1-2 minutes.

Repeat for remaning burritos! That's it. You are done. Serve these puppies anyway you like. Just like at a fast food joint, you will need to gingerly peel the pressed burrito apart to add your favorite condiments like hot sauce or salsa while anxiously waiting to get that thing in your mouth.