These are a long-lost favorite from my childhood. My grandmother made these for me as a kid, and passed the recipe down to my mother. The actual origins of the recipe now seem to be a family mystery as some cousins do not recall my grandmother making these, while some remember my aunt making them. Either I was lucky enough to have them at just the right times, or maybe it was a combo of my mom, grandmother, and aunt taking turns making them for the extended family at different points in time. Regardless, I was always fascinated by the dubious 'Wispride' spreadable cheddar cheese used in the recipe and would love having nibbles of it and the potato / cheese mixture while the dish was being prepared. That cheesy spread has a weird aura to it–it has a day-glow hue to it and is often glossed over in the shopping aisles. It also doesn't taste quite like cheddar, but it imbues a nice, distinct taste to the dish. Make sure you use the artificial, honest-to-goodness bright orange stuff–the ingredients are really not all that bad. Of course, you can substitute with shredded cheddar, but you will miss out on that distinct Wispride-like taste served at the cocktail parties of yor.
This recipe is remarkable easy, but like with all recipes, the details are in the care of preparation. I like to rub the potatoes with olive oil and salt before baking them to keep the skin soft and pliable for restuffing, and the olive oil enhances the flavor and brings out the nutty taste of the skins. Be sure to use actual larger baking potatoes to make sure you have leftovers!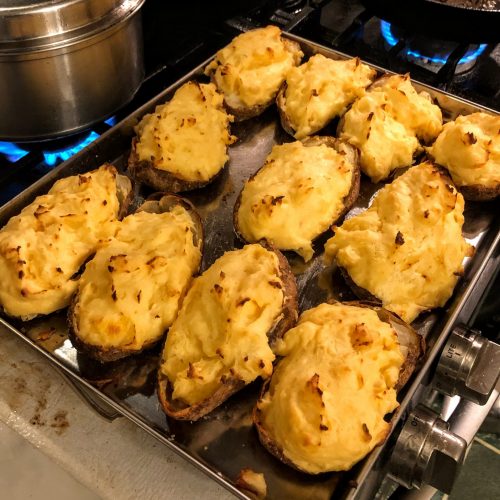 Wisconsin Style Twice-Baked Cheddar Cheese Potatoes
A traditional favorite made with Wisconsin-Style Spreadable Cheddar Cheese. This will make around 12-14 servings. You will probably want to leave out a skin or two and mound up the filling. Just divide the ingredients accordingly if using less potatoes.
Print
Pin
Rate
Ingredients
8

Baking potatoes

Try to use the larger baking potatoes. This will make around 12-14 servings. You will probably want to leave out a skin or two and mound up the filling.

16

oz

Sour Cream

8

oz

Kaukauna / Wispride / Spreadable Cheddar Cheese

There are a few brands – try to find something with a short ingredient list. They usually come in two sizes – use the 'smaller' looking one.

1

tspn

Kosher Salt

Plus extra for sprinkling on potatoes while baking.

2

tbsp

Butter (optional)
Instructions
Clean the potatoes. Pat dry with a towel. Toss in a bowl with a splash of olive oil to lightly coat, and then sprinkle with a hint of salt for flavor. Make sure not to add too much oil or you may get drips and smokes in the oven. You may want to put a cookie sheet under them to catch any drips.

Bake at 400 degrees for about an hour or however your normally bake potatoes. I have found using a thermometer to cook them to an internal temp of 165 degrees farenheit is perfect.

Allow the potatoes to cool a bit before handling (In the winter, I usually put them outside for a bit to cool).

Slice the potatoes in half and CAREFULLY scoop out the insides with a large spoon into a mixing bowl.

Add the sour cream, salt, cheese spread and butter (if using) to the potatoes and mix to desired consistency with an electric beater or mixer. This is where it gets personal – some people prefer prefectly smooth potatoes and others like some lumps in there. I aim for somewhere in between with some nice lumps in there for texture.

Get the oven back to about 350 degrees. Spoon the potato and cheese mixture back into the skins and mound it up nice and high like a steajhouse would do! I often sacrifice a potato skin here in order to have a nice mound of filling and just eat the leftover skin while I'm cooking.

Bake until you start to see slightly browned ridges on the potatoes or about 20 minutes.

Serve these bad boys with some steaks or use as an appetizer. Also, you may wish to alter ratios of ingredients to taste. Enjoy!