Promise me you will not eat sauce from a jar, ever again. Really – there is no longer a need. This sauce is so simple to make, and tastes way better than anything you can buy premade from a jar. If you are tired of beef bolognese or other varieties of meats in your sauce, why not give this recipe a go? I had a pound of ground pork recently purchased for some Asian recipes, when I decided that I wanted to try something different. I happened to get an email for a pork bolognese recipe, but wanted to tweak it, so I did some googling and reviewed about ten different recipes, and combined the bits I liked about each recipe into one easy-to-follow recipe.
I think the secrets to this recipe are the carrots, white wine, and cream. The sauteed carrots lend a sweet note, while the white wine and heavy cream balance each other out to lend a variation to the traditional Italian sauce theme.
This is a great recipe for the weeknight doldrums, or even on the weekend, of course, but it is so easy to make, you can save it for those 'not sure what to cook for dinner' evenings. Start with a pound of ground pork, and you can of course tweak to your heart's content. You do want to make sure to have some fresh basil on hand. I recommend skipping the basil if you do not have any fresh–I find the dried variety to be quite bitter, but that is just me. Also, I find that fresh parmesan goes best on top and in the sauce, but it is okay to substitute some pre-grated if you do not have any blocks of parm on hand.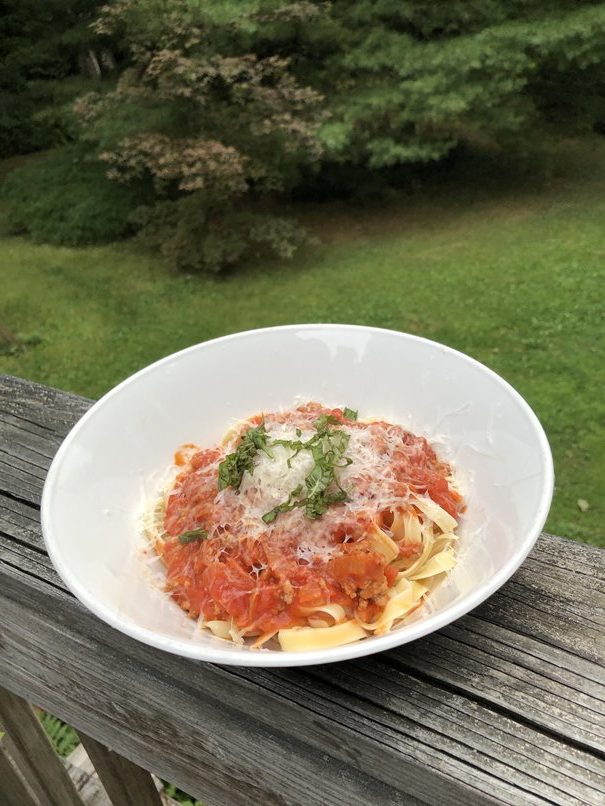 Finally, this goes well with any type of pasta, but you might want to try a wider noodle, such as even fettuccine, for a nice twist on the traditional spaghetti accompaniment.
Buon Appetito!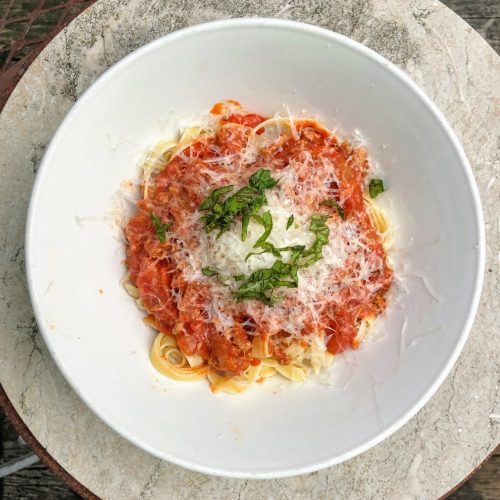 Pork Bolognese Recipe
Never eat sauce from a jar again. It is that simple and tasty.
Print
Pin
Rate
Equipment
1 large pan for cooking the sauce – a wide pan such as a chicken fryer works well

1 pan for browning the pork

1 pot for boiling the pasta

grater and/or microplane, for coursely grating the carrot and microplane for the parmesan

Wooden Spoon (for stirring)
Ingredients
2

cloves

garlic, diced

2

tbsp

olive oil

extra virgin

1

onion, diced

1

28 oz can

quick crushed tomatoes

1

28 oz can

tomato sauce

1

lb

ground pork

1

tsp

crushed red pepper flakes

1

carrot, coursely grated

1/4

cup

heavy whipping cream

1/4

cup

grated parmesan

1/2

cup

sliced basil, for garnish

1/2

cup

white wine

2

tsp

fresh oregano–dried is fine

salt and black pepper to taste

1

tsp

freshly chopped rosemary–dried okay
Instructions
Finely dice the onion and add to chicken fryer with the olive oil on medium heat. Add the crushed red pepper and stir with a wooden spoon.

You can start the pot of water to boil the pasta – I like adding enough to boil 2lbs of pasta for leftovers

On another burner, brown the ground pork over high heat. I like using a thin bottomed frying pan to get high heat and quickly brown the meat. Keep turning. Use a masher to keep turning the pork, breaking up any large chunks. This will take about eight minutes.

After about five to eight minutes of sauteing the onion and when the onion is translucent, add the diced garlic. Turn heat to high. Don't let the garlic sit too long or get brown – we are increasing the heat to deglaze the pan. When the garlic is strongly aromatic and translucent, add the wine, stirring all the bits from the sides. Let the wine cook off until only a small amount of liquid remaining.

Add the pork mixture into the onions and stir. Then add both cans of tomatoes. Continue to stir with a wooden spoon. Add a pinch of salt and pepper to taste – I add LOTS of black pepper, but that is me. I also add more crushed red pepper flakes at this point to give the sauce some zing. Add the chopped oregano and rosemary.

Let the sauce come up to temperature and start gently bubbling. Grate the parmesan directly in to the sauce as it is cooking, and slowly stir in the heavy whipping cream. You sauce will lighten up a bit, adding a nice touch of orange.

You will want to let the flavors mingle from here on out, but as soon as the sauce is piping hot, you can serve. At this point, the water for the pasta should be boiling. I like to add the pasta to the boiling water about now to give the sauce some time to simmer.

Once pasta done boiling, drain the pasta. Spoon the sauce over the pasta. Top with a heap of grated cheese, and garnish with basil. I like saving the basil for the VERY last step so it does not become bitter. You can also add to sauce before serving, but definitely save toward the end to avoid it getting becoming bitter.