Not sure if anyone would need a recipe for this–maybe you don't or maybe…you DO. I started snapping pictures one morning when the idea of this site came to me, so I thought I'd post this. As you might guess, there is a secret here–an extra piece of cheese on top and bottom of sandwich–mind blown, right??? In all seriousness, we melt the extra cheese to soften the muffins a bit, adding to the texture / chew flavor scale. I like to microwave at the end, which softens the muffin and melts the extra-secret cheese slice, while my wife likes to toast the English Muffin with the extra slice of cheese already on it. Either way, you can skip the extra cheese slice, but to me it pulls everything together–literally. It definitely makes this a one-hander dish for eating, which is great if you like to wave your arms and rant while you talk.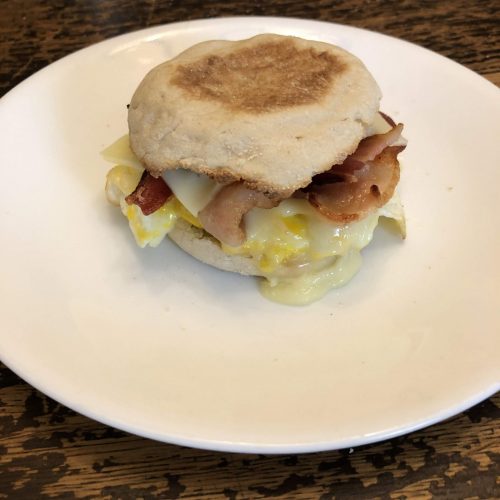 Bacon, Egg, Cheese on English Muffins
Another classic, with an extra 'secret' slice of cheese on the top and bottom halves of the muffin to keep the sandwich stuck together.
Print
Pin
Rate
Equipment
8 inch Fry Pan

Non-Stick Griddle
Ingredients
2

eggs

1

tbsp

butter

4

strips

bacon

2

English Muffins

2

slices

American Cheese (additional two slices optional)

(Land O' Lakes or Boar's Head)
Instructions
Give yourself a head start by cooking the bacon first. You can proceed to the next steps after it has started sizzling. Heat the non-stick griddle on medium heat and lay the bacon strips flat. Cook for 3-5 minutes a side. Flip with a spatula. You'll want them slightly browned. Cook for another 3 minutes and flip. If still not browned enough, just flip and repeat. If you want a more relaxed approach, you can cook the bacon first and set aside on a towel to drain excess fat.

While the bacon is cooking, split the English muffins and place in a toaster oven on high / toast. Keep an eye on them – nothing will ruin a breakfast sandwich like an overcooked muffin.

While the other two ingredients are cooking, start the eggs. Place a dab of butter in the 8in fry pan and turn the burner on to LOW heat. Once it turns into a nice little pool, crack the eggs gently on the side of the pan and slide onto each half of the pan. You can use a larger pan, but I like to cuddle the eggs together into a compact area.

By now the bacon should be close to done. Set aside on a paper towel

Back to the eggs–give them a flip. This next part is a step I learned from a grumpy old Englishman who owned a deli and made breakfast sandwiches. He would whack the eggs with side of a spatula after he had cooked them for a bit and I never knew why…until I bit into some egg sandwiches from other delis and wound up with yolk in my lap. For this reason, as the eggs turn white once you have flipped, poke the yolksa tiny bit with the edge of the spatula to 'unseal' the yolk a bit. It flattens the eggs and provides a more stable sandwich. Of course, you can skip this step altogether and live on the wild side.

Flip the eggs yet once more…this is the home stretch and you should cook 'em how you like 'em at this point. I prefer some run to my yolks, so I turn off the heat and leave them on the burner to finish cooking. Place a slice of cheese over each egg and cover to let the cheese melt.

Now back to those muffins. They should still be soft with just the slightest hint of brown on the edges. Give them a poke with your finger to test. Poke them, I say.

Assembly time. Gather up your ingredients and prepare on a plate. Place bottom half of English Muffin on plate, followed by an egg with cheese, and pull the 2 pieces of bacon apart into 4 equal sections. Place on top of the egg and complete with the top half of the muffin. Repeat for the other muffin and remaining ingredients.

Now here is a REALLY optional step, but I thought I would add it. I have a son with special needs who has difficulty holding these sandwiches together. The ENTIRE reason I ever started making these was specifically for him so that he could hold with one hand and feed himself. I take an extra slice of cheese and split it in two and put on either side of each muffin with the rest of the sandwich in between.

I then microwave the muffin sandwich for about 17-20 seconds. This melts the cheese a bit more, and binds the sandwich together. It also softens the muffin a bit, which lends to the taste and texture. It really pushes this sandwich over the top, IMHO, and when I feel the need for max taste–I make myself a 'Teaguey Special,' which has this extra slice o' cheese config. I also slice in two for easier eating. A sliced breakfast sandwich has even more delicious edges and texture. If you dont like microwaves, the other option is to melt this additional cheese on both halves of the muffin.

Last step – enjoy! I love these plain and as-is, but of course, feel free to embellish with your favorite hot sauce.