A Smashburger?
What is a smashburger? Why do I need a recipe for it? What's all the hype? You say you've never tried a smashburger? Well sit right down, my friend. You are in for a real treat. I stumbled upon smashburgers thanks to my son, who started making these for the family. At first, I thought it was just a silly name or fad, but as my son has already developed culinary skills of his own, I was soon convinced. They are incredibly fast and easy to make, delicious, and the name simply does sound cool. These burgers stand toe to toe with Five Guys' burgers IMHO. You will simply have to judge for yourself.
If they are so easy to make, then why do I even have a recipe for them? Simple–to inspire you to make them and share the taste with you. There are probably millions of other burger recipes out there, and my proposition is yet another drop in the ocean, but if I have inspired you to enjoy the nirvana-inducing bite of your own creation, then my job is done here. I also invite you to try my variation with chipotle mayo and a dab of horseradish.
Smashburgers are essentially balls of meat that are 'smashed' (or smooshed, as I like to say) with a burger-press–or spatula, as I don't own a press. Pressing them thin into the hot cast-iron gives them an irresistible taste and texture.
The Keys to Flavor:
As you will hear repeatedly from me, the main secret to flavor here lies in the high and even heat from a cast-iron skillet. As I will go on to mention in other posts, the other keys to a delicious dish are toppings / condiments, and the careful preparation of the ingredients. Therefore–let it shine! Be creative! Use your imagination. There is no limit to the toppings you can upgrade your burger with. It is the bold and distinct medley of flavors that pack a fireworks show into your palate.
The OTHER key here is that they are cooked on a griddle vs. flame-broiling. Don't get me wrong…I love a burger off the grill as much as the next guy. However, by pressing or 'smashing' (smushing?) the burgers into thin patties over a constant source of heat, they develop a firm sear on the outermost crust, giving some nice texture to your chew. By cooking them quickly, you are left with a juicy, thin core, topping off your culinary expectations.
Hence I digress. In conclusion, I hope you enjoy making and eating these little badboys for your family. Above all, I'd love to hear the combo of condiments you assemble these with. Cheers!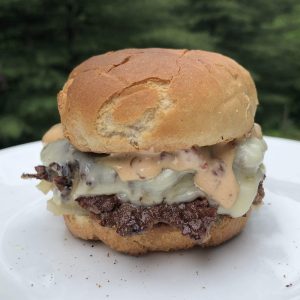 Smashburgers with Chipotle Mayo Recipe
The smushing and powers of cast-iron compel you…Since these are prepared as thin patties, serve them up as double cheeseburgers–you won't need seconds. Our condiment of choice for these is Chipotle Mayo, which is simply some Mayo, Pickle Juice, and diced chipotles (or some Cholula Chipotle Hot Sauce if you do not have any canned chipotle peppers). I use real ground, canned chipotle peppers, when available.
Print
Pin
Rate
Equipment
cast-iron skillet

Spatula with a metal face
Ingredients
2

lbs

ground beef

4

slices

freshly baked bread or natural rolls

(avoid overly-ingredient-laden breads)

salt / pepper

4

tbsp

Mayonnaise

(Hellmans is the best, IMHO)

1

canned chipotle peppers

can substitute with 1-2 tbsp Cholula Chipotle Hot Sauce

1/2

tbsp

leftover pickle juice

1/2

onion, sliced as thinly as possible

fresh arugula for topping

(optional)

1

tsp

prepared horseradish

(optional)

1

tsp

Extra Virgin Olive Oil
Instructions
Divide each pound of ground beef into 4 equally-sized balls. This gives you a quarter pound burger, which is the perfect amount for a thin patty. (yep…just like McD's)

Line up your arsenal of cast-iron cookware so you can parallelize this operation (unless you don't mind waiting a little). Set on low heat and drizzle a little olive oil on the skillet.

Place the rounded balls onto the skillets. That glorious cacophony of sizzle will let you know you've got the right temp.

Let them sizzle for 10 seconds or so and then SMOOSH them down with a metal spatula. This step is important. Keep working them flat. Flat, I say! Flatter the better. They might stick a little to the spatula. No probs–just keep smooshing them down and work off with your finger, if need be. Use a rolling / rocking motion to flatten.

Let the patties cook for around 2 minutes on the first side. Sprinkle with some black pepper and salt. When it looks like the steam is coming up through and the patty loses much of its red, color–time to flip.

Flip them over. If sticking too much when you try and flip, let them cook slightly longer. Let cook for another 60 seconds or so and add cheese of your choice. I am a sucker for Land O' Lakes American for it's even meltability (is that a word?) Once cheese is evenly melted, transfer to a plate and cover. Prepare the next 4 patties in the same way.

Once the second batch of patties is done, take the thinly sliced onions and drop them into a skillet. Let them cook for 1 minute or so and gently push around. You don't need to completely cook them. While the onions are cooking, lightly toast your bread or buns.

Somewhere in the midst of this fury, you will want to have prepared your condiments. If not, now is a good time. Here I have sliced up some pepperoncini peppers for a little extra kick. I also ALWAYS make chipotle mayo–just add some chipotle hot sauce to mayo and blend with some pickle juice and black pepper–heaven!

Assemble your lovely creations and serve! Don't forget to top them off with your lovely sauteed onions. Be prepared for mmm's and aaah's. These Smashburgers are, of course, delectable when paired with homemade fries which I usually cook in tandem. See separate recipe.

For the Chipotle Mayo, mix about 3-4 tablespoons Hellman's Mayo, some leftover pickle juice, 1 tablespoon Cholula Chipotle Hot Sauce, and a good dose of ground black pepper