Feeling sluggish? Need a healthy boost to your meat and potatoes diet? Even as much as I love starch and fats, I need the greens to keep things normalized and digestive system happy. Enter collard greens. These are a tough customer–they can be overly bitter and sometimes difficult to chew. However, cooking them over high heat with a splash of olive oil and leaving some water on them steams them, creating an end result bursting with flavor and texture.
Did I mention how happy red wine vinegar makes me? I am always so inspired when I see it, and I always think of Italian food–invariably, I will want to make some Italian dish just by seeing a bottle of it, regardless of brand.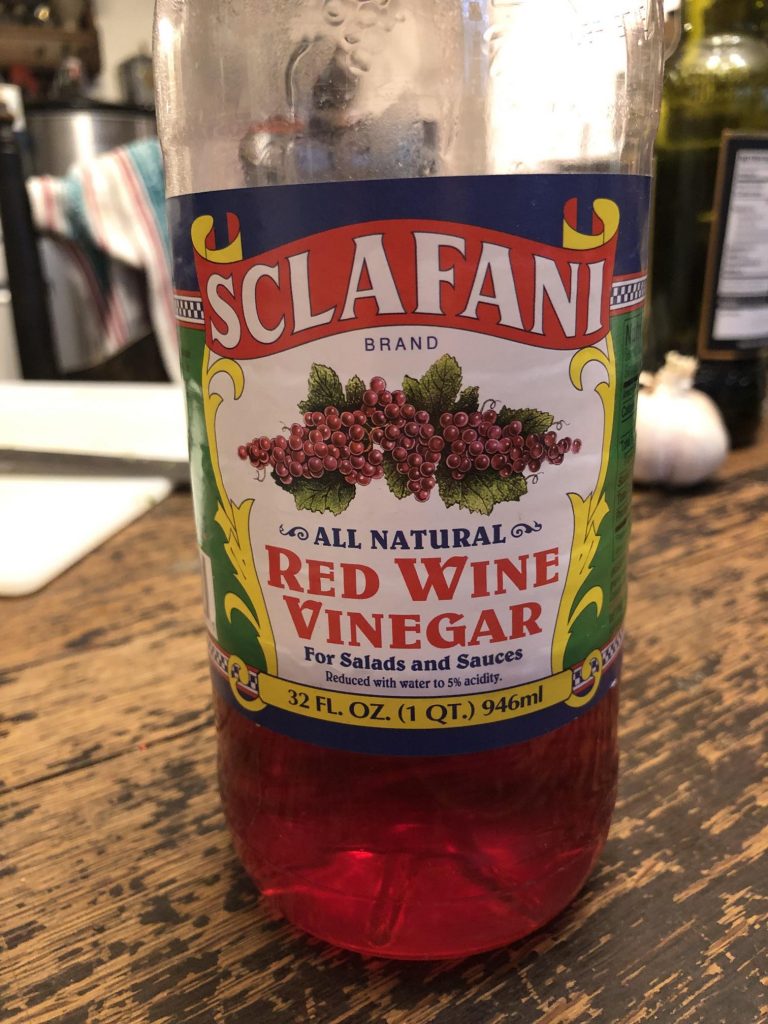 Add in some red wine vinegar, garlic, and crushed red pepper flakes, and you have yourself a side dish that would stand up in the finest restaurant around the globe, all in less than ten minutes. The red wine vinegar really mellows this dish out and enhances the flavor profile. This goes perfectly with pasta or any meat dish to round out the meal.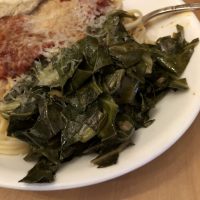 Quick Collard Greens with Garlic, Olive Oil, and Red Wine Vinegar
Leaving some water on allows the greens to quickly steam, while the vinegar, garlic, and crushed red pepper flakes create an amazing flavor profile.
Print
Pin
Rate
Equipment
stainless steel pot

wooden spoon
Ingredients
1

bunch

collard greens, rinsed

4

cloves

garlic

2

tsp

red wine vinegar

3

tbsp

Extra Virgin Olive Oil

2

tsp

kosher or sea salt

2

tsp

crushed red pepper flakes

coursely ground black pepper

to taste
Instructions
Begin by rinsing collard greens well and shaking off excess water, but do not pat dry. Continue slicing the thickest part of the stem from each leaf off with a sharp chef's knife.

You can also pull the leaves off the stem as you go to speed things up, slicing off any dark green pieces and adding them into your pile for cooking.

You do not need to get rid of stems entirely, but should remove most of stem, as it can be tough and bitter.

You should have a nice little pile of greens now. Pile them together, and begin slicing into small 1/4 inch strips. You can definitely go smaller here, but I get lazy on occasion.

You will finish up with a lovely little pile of collard green bits. Just dice up any larger stray pieces.

Dice up some garlic. Adding a few steps here in case you have never diced garlic. Take a few cloves and place on cutting board, skins on.

Then simply dice crosswise and lengthwise with the knife, keeping your fingers curled inward with knuckles against the knife to avoid cuts.

Add the greens to your stainless steel or metal pot. You can probably use non-stick, but the stainless steel gets a great sear. Add the garlic, olive oil, salt, pepper, and crushed red pepper flakes and toss well with a wooden spoon. Wait to add the vinegar until heated. Turn the burner to high heat and cover.

After a few minutes on the heat, remove lid and stir with wooden spoon. Let them cook for about 6-8 minutes until nicely wilted. You can cook longer if you like them less firm. Uncover and remove from heat. Serve with love.
Nutrition