Never in my life did I think I would be posting recipes for roast beef, but after putting this combo together, I'm pretty psyched. Once again, the magic is in the cast iron skillet. Bottom round tends to not have much fat, so you can literally remove the roast from the skillet and slap the pan on the stove as-is to make the gravy afterward–by far some of the best gravy I have had, anywhere.
I would recommend an inexpensive cut for this recipe, though you can substitute just about any larger cut (shoulder, rump, top round, eye round, spoon roast, etc.) I used a bottom round here, which is usually used for traditional roast beef. It is not as tender as a filet or NY Strip, but it also contains less fat and goes even better with the gravy, IMHO.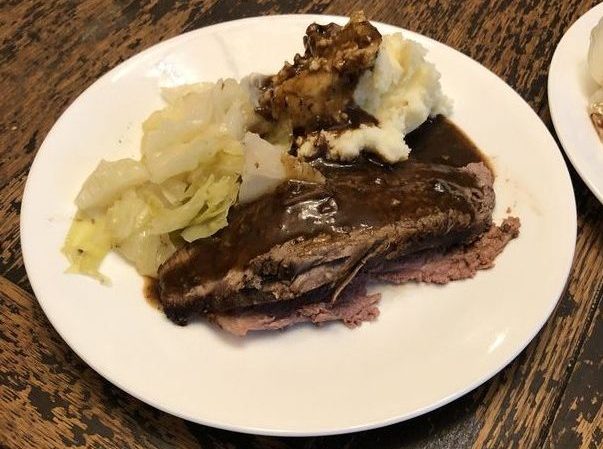 Cast Iron Skillet Roasted Beef w/ Red Wine Gravy
Bottom round is elevated to the level it deserves. The gravy is made in the same cast iron skillet it is roasted in.
Print
Pin
Rate
Equipment
large cast iron skillet

separate bowl for making the wet garlic rub
Ingredients
2.5-3

lbs

bottom round roast beef

6

cloves

garlic

2

tbsp

butter

3

tbsp

olive oil

extra virgin preferred

2

tbsp

cornstarch

1/4

cup

red wine

3/4

cup

chicken stock

2

tbsp

Montreal steak seasoning

keep a large container in your kitchen for occasional use

2

tbsp

chopped rosemary

dried is fine. Good to have the smaller size leaves already cut.

1

tbsp

paprika

2

tsp

Adobo seasoning

optional
Instructions
Preheat oven to 500 degrees – as high as it will go. Use convection roast, if using a convection oven. It helps to let the roast come up to room temperature–some say this is a must, but I don't worry too much about it.

Crush and dice the garlic cloves in a bowl. Add about 2 tbsp of the olive oil. Dice up the 2 tbsp butter and add to bowl. Mix in the remaining dry ingredients and mash with a fork. You want a nice smooth paste to rub on the beef.

Drizzle 1 tbsp of olive oil in the skillet. Place the beef in the skillet, fat-side up. Rub the entire contents of your wet rub onto the top of the beef, working some on each side or 'face' of the beef.

Place skillet in middle rack of oven. This sucker will be hot and might smoke at first, so use the overhead fan and have a dishtowel ready to wave over the fire alarm (maybe that only happens in my house.) Set a timer for 8 minutes. It will really sizzle after a few minutes. This is exactly what you want–a good sear.

Lower the heat to 350 degrees and cook for 18-20 minutes a pound. 18 minutes for more rare. This is the magic formula. I have seen this cooking time from a few cookbooks, and don't recall where I first saw it, but it is easy to remember and works every time. So, for a 2.5 lb roast, which I used here, I put the timer on for 45 minutes and started prepping the side dishes.

Use a meat thermometer to test for doneness. You don't have to, but it at least gets you in the ballpark as to whether you have a blood-red roast on your hands or overcooked-shoe leather and you need to order take out instead 🙂 You can use a digital, but I have used the same simple cooper thermometer for the past 20+ years. It should be lower than the target temp you are shooting for, since we will be tenting the meat and it will keep cooking. I aim for around 135 degrees and poke the meat in a few spots until the probe hits the center. It will continue cooking internally after you tent it.

Tent it with foil. This step is crucial, and my wife always scolds me when I do not let the roast sit long enough. You want to let it rest and have the juices recirculate for at least 10 minutes. It is still actually cooking internally

Now–the magical gravy, and this is why I like using the skillet. Simply slap that bad boy on the burner with all the drippings and set to med-high heat.

Add somewhere between 1/4 cup to 1/2 cup of wine–I do not measure, so I am guesstimating. It does not half to be precise…more wine gives more wine flavor–its that simple. Let the wine boil off and stir occasionally as you prep your other sides.

After 4-5 minutes of simmering, the juices will thicken a bit. I like to be able to gently scrape the skillet with a wooden spoon and be able to see the bottom for a few seconds–this gives great consistency to the gravy.

Add the cup of broth and let start to boil slightly. Prep a slurry of cornstarch and water–about 2 tbsp of cornstarch to 1/4 cup of water. Added bonus, you can see the brand of wine I am using in this picture.

SLOWLY pour half of the slurry into the bubbling juices as you stir with wooden spoon. Wait. Stir well. DO NOT POUR THE WHOLE THING AT ONCE OR YOU GETTA THE LUMPS! CAPISCE? This is an art and there actually is science behind the whole thing, but I digress.

Take your time here and only pour in a little at a time, stirring and pausing to avoid lumps. Stir until you have the desired consistency. You dont want it too thick, either.

You can now untent the roast and start slicing–the thinner the better, but I am usually salivating so much after the first few slices, the remaining ones tend to be thicker, so my guests usually get the first slices or I let the family fight over those.

This was the first time I had done skillet roast in a long time, and I was really pleased with the results. If you prefer a more well-done roast, simply cook for 5-10 minutes longer, and the opposite if you prefer your roast rare. I recommend some mashed potatoes and another side to help sop up the gravy, which I will link to in this post. Enjoy!