I was in the middle of completing a few other recipes when I made this dish last night, and decided I had to get this one up as soon as possible. I am finding it is the simplest dishes that stand out the most, and this is one of them. The important thing is that you mindfully prepare your food for your intended audience with love, care, and attention to (unexpected when possible) ingredients.
I was not sure what to make after an intense day at the keyboard, and my wife suggested grilled chicken. I always feel that grilled chicken is the easy way out–it takes no effort, and often ends up tasting pretty boring after a while. I therefore always try to tweak and change the recipe just a little every time I make it.
I gave it some thought based upon the ingredients on hand and came up with this recipe, and man, I really dig this one. The golden rule is to tweak recipes anyway you like, but I encourage you to try this flavor combo. The gouda, pickle, chipotle peppers, and dill pack an extraordinary punch to the tongue. It's ALL in the prep and ingredients.
The ingredients here all seem to meld really well–dill weed, pickle juice, and real chipotles melded with the Gouda and mayonnaise really wake up your taste buds. You do NOT need expensive Gouda, so don't be put off by the name. I used a block of Crystal Farms Gouda, which is about the same price as any other popular variety of packaged cheese. I find that milder, softer cheeses go nicely with cooked meats as they often melt better.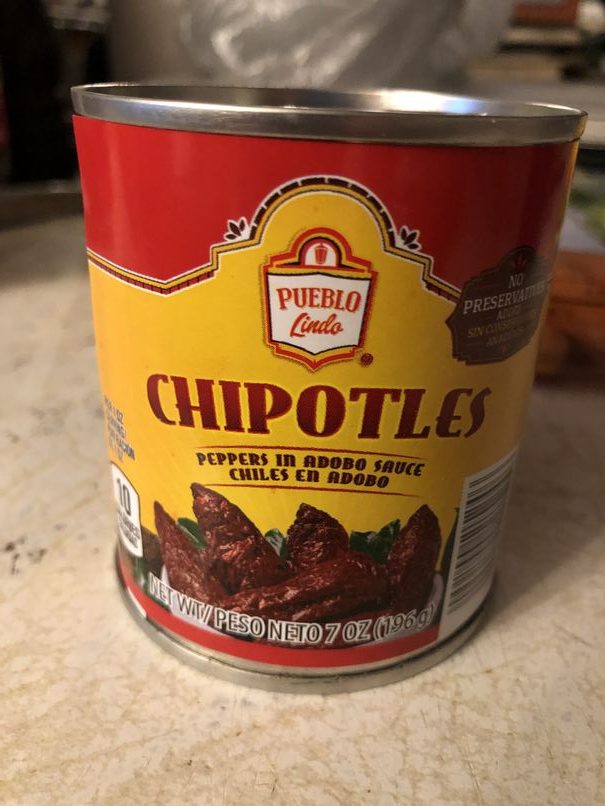 I have been on a chipotle kick for quite a while now with no signs of stopping. I had recently started making chipotle mayo using Cholula chipotle hot sauce, but started experimenting with real chipotle peppers, and the difference is phenomenal. The seeds lend a great texture, yet the entire pepper is mellowed out by the smoking process. Chipotles are basically ripened jalapeño chiles that have been smoked and dried. They are often sold in cans with adobo sauce, and thats what I am using here.
I served this up with my chipotle slaw, which I will link to once posted. This meal begets beauty in simplicity.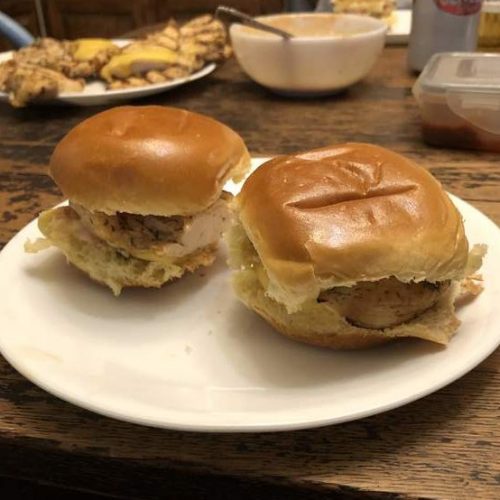 Grilled Chicken Sliders on Brioche w/ Gouda,Pickle,Chipotle Mayo
A variation on a well-known theme provides a quick and delicious meal
Print
Pin
Rate
Equipment
Grill – gas or charcoal

Metal mixing bowl for marinating the chicken

Small-Medium sized bowl for the chipotle mayo
Ingredients
3

Boneless, Skinless Chicken breast halves

Note: 1 WHOLE chicken breast at the butcher is usually sold in 2 pieces, so it can be confusing. For the ratio I am describing here, this is technically 1.5 chicken breasts. You slice each breast into 3 cutlets.

1/4

lb

block or sliced Gouda cheese

something inexpensive..doesn't need to be fancy

1/4

cup

Leftover pickle juice

Approximately..save some for the mayo

2

tbsp

olive oil

extra virgin, if possible. Just eyeball it

1

tbsp

paprika

1/2

tbsp

Adobo seasoning

change to taste, as it is salty

1/2

tbsp

dried dill weed

fresh, if you have on hand

1

tbsp

Montreal or Szeged chicken rub seasoning

optional. Any other variety works, also

8-12

Packaged small brioche buns

4

tbsp

Mayonnaise

1/2

cup

chopped fresh cilantro

do not use dried – it tastes awful.

Dill Pickle Chips! Always have some on hand…
Instructions
Horizontally slice the chicken breast into 3 thin cutlets. Place one hand flat on top of a chicken breast. Hold your knife parallel to the cutting board, and slice it horizontally along the length of the breast in to 3 thin cutlets. They will not be perfectly even, and that's fine.

Add the cutlets into a metal mixing bowl. Add the pickle juice, olive oil, and remaining dry ingredients, including the dill. Mix and turn with a fork until all slices are evenly coated. Let sit and go fire up the grill.

While the grill is heating, make your chipotle mayo. Remove 1 chipotle from the can 2 if you love hot food) of peppers, keeping the sauce with it, and dice up on a cutting board.

In a separate bowl, spoon out around 4 tbsp mayo. Mix in the diced chipotle, and add some of the extra sauce left from the can. Add in a little less than a tablespoon of pickle juice for a nice dill overtone. This stuff rocks!

I like to toast the rolls, so I prep as much as I can before putting the food on the grill. Remove the buns from the package and split ALMOST in two. That little dangle of bread keeps them almost joined until the end, making it easier to pair them when assembling the slider. Stick them in your toaster oven and get em ready to go.

Grab your beer or wine, optional, and head out to the now-heated grill. You want a low-medium heat for the chicken so as not to burn. I like lowering the middle burner to avoid burning the chicken. Grilling is an art unto itself–sounds like a good future post. Fork the chicken onto the grill and lay flat. Cover the grill and check in about 3-5 min.

About now I like to slice the cheese. Do make sure you use some cheese as it binds the slider together, complements the texture of the chicken, and adds some umami to the flavor profile. I used gouda here, and I feel it is the perfect complement to these ingredients.

Flip the chicken over and admire those sweet, sweet grill marks. Cover and let cook for another minute.

Lift grill cover and top the chicken with the gouda slices. Cover and cook for another 2-3 minutes. I leave a few pieces plain so I can reheat for leftovers. Transfer to a serving plate and cover.

As soon as that serving plate hits the table, I start toasting the brioche rolls. DONT OVERTOAST!!! They only need around a minute or so, depending on the heat of your toaster oven. Have someone watch them, if need be. To me, the texture of the bun is CRITICAL in preparing sandwiches or sliders. The world is counting on you…

Assemble these bad boys. Place bottom half of the roll on a plate. Slice a cutlet cross-wise slightly less than the width of the bun. Slice another section about the same. I like to layer two thin cutlets against each other on the bun for some texture variety. Top with around a tablespoon of mayo.